Keleen Hitzel shares her two favorite spots to explore in Costa Rica - ones that have not yet been impacted by the development and commercialization found in some areas of the country.
Read the STORY
«
»
transformative stories on travel
intoxicating, thematic travel images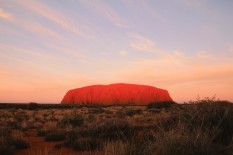 Destination: Australia
-
Alex Roulette is in the midst of a whirlwind trip: he's been on the road for over a year and has made stops in New Zealand, Australia and Indonesia. Currently in Borneo, he is uncertain as to when or where his journey will end, but is keeping his eyes and mind open ...
travel tips for your next adventure
Costa Rica Untamed
-
With 800 miles of breathtaking coastline and 5 percent of the world's biodiversity, Costa Rica is an escapist's dream. Located just north of the equator, this tropical haven offers everything from black sand beaches with perfect waves to a region deemed by National Geographic as "the most biologically intense place on ...